Damon braces are known as self-ligating braces. This means that although they still have brackets and archwires, there are no elastic bands (ligatures). Instead, the brackets have small metal clips to keep the archwire in place and eliminates the need for elastic ties.
Damon braces are available with either metal , Damon Q ( where brackets are smaller and more siscreet ) or crystal clear and stain resistant which are virtually invisible, the Damon Clear.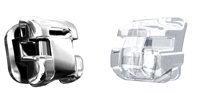 Young and old, male and female, the Damon System delivers remarkable results...
    •    A fuller, wider smile
    •    Good facial balance and aesthetics
    •    Smooth cheek contours which make narrow smiles look fuller and more inviting
    •    Fewer dark triangles within the corners of your mouth
    •    Straighter, less crowded & crooked teeth
    •    Improved profiles… for a more youthful look at any age!

Please contact us to make an appointment for a consultation and see how Damon System can offer you a beautiful smile.